[ditty_news_ticker id="2620″]
Top Five Reasons why your children should attend the School of Saint Mary
Excellent academics combined with peace, justice, and human rights, according to Gospel principles and Catholic tradition
Four of the six most recent Bishop Kelley High School valedictorians graduated from the School of Saint Mary.
Five fairly recent graduates are living a religious vocation: Father Vince Fernandez, Sister Servant of the Cross Kmetz, Fr. Sean Donovan, Fr. Andy Kmetz, and Sr. Theresa Aletheia Noble
97% of parents say the School of Saint Mary inspires their students to pray.
Many of our Graduates become National Merit top scorers.
---
---
Academics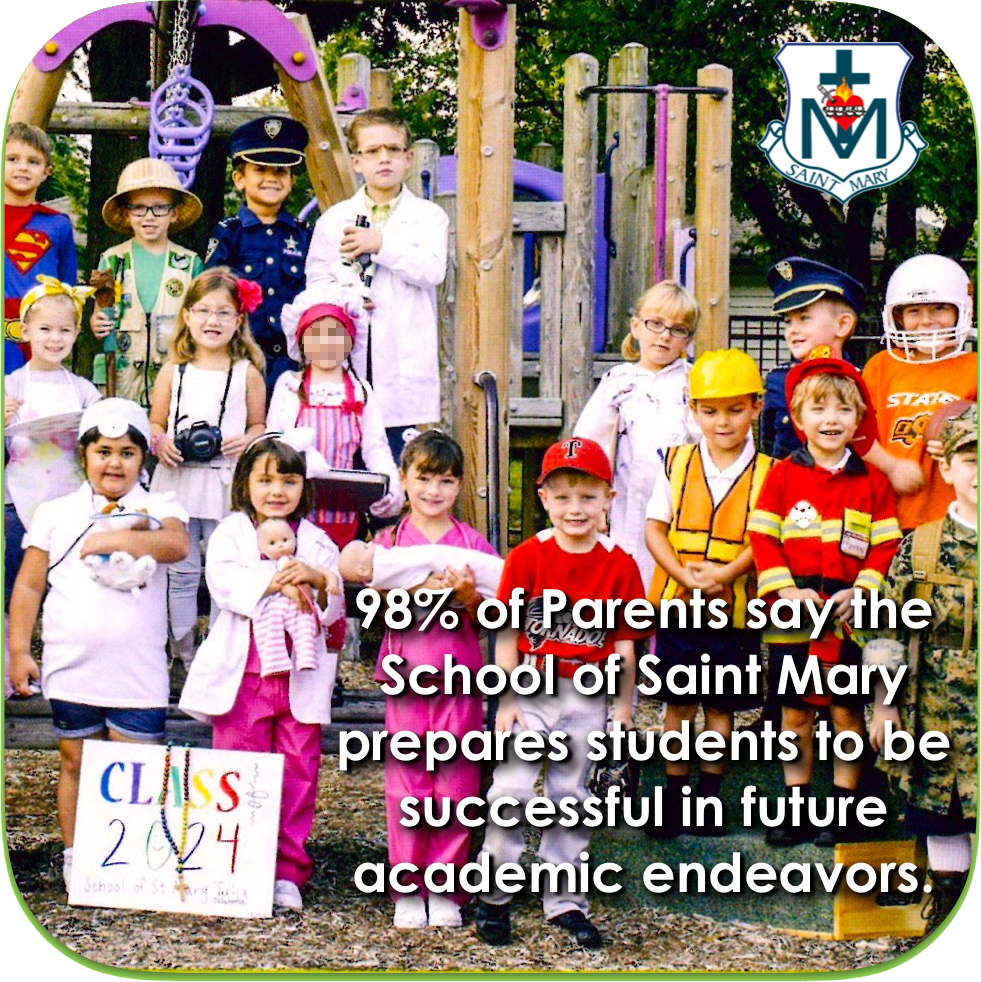 The School of Saint Mary is fully accredited by the State of Oklahoma. In 1998, it became the state's first Catholic elementary school to meet the higher accrediting standards set by the Oklahoma Conference of Catholic Schools Accreditation Association.
In 1998, the U.S. State Department of Education honored the School of Saint Mary with the National Exemplary School Award. Saint Mary continues to earn this "Blue Ribbon" distinction for excellence by offering lessons in language arts, math, social studies, science and religion. Students also receive instruction in computers, art, music, foreign language, physical education and drug awareness through an enhanced curriculum and enrichment program. Extracurricular activities further challenge students and help them to develop leadership skills through involvement in student council, team sports, scouting, community service and an arts and humanities enrichment program.
Every student deserves individual attention.
The School of Saint Mary has 18 certified and 4 teaching assistants for a student teacher ratio of 15:1. A special education teacher and an educational consultant are available to help teachers and parents identify and meet the varied needs of the students at all grade levels. The early elementary students spend their entire day in one classroom, with one teacher and the same group of children. Older students rotate between classes. Our faculty employs a variety of teaching methods to accommodate students' unique learning styles.
Students' efforts prove that the Saint Mary system works.
Using the Iowa Test of Basic Skills, Saint Mary consistently achieves a school average at or above the 95th percentile nationally in math, science, reading comprehension, language arts and social studies.
---