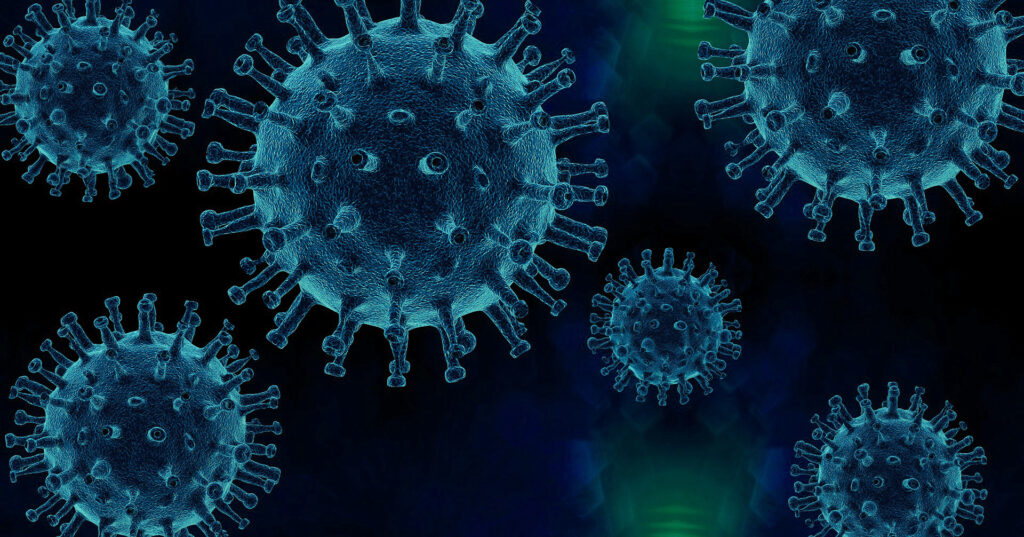 Father Jack Gleason and Maureen Clements formed a COVID-19 committee composed of medical professionals and school leaders. The purpose of the committee is to provide guidance to the school regarding the COVID-19 pandemic.
Click on the dates to see communication from those days:
September 22, 2020/COVID-19 Policy
School of St. Mary COVID-19 Procedures
Regular school schedule with the following measures implemented:
The following procedures are subject to change based upon new scientific evidence concerning COVID-19, changing enrollment, experience, the incidence of COVID-19 in our school community, mandates by the governor of Oklahoma, the Catholic Schools Office or the mayor of Tulsa and the recommendations of the Health Department.
Please refer to Diocesan Catholic Schools COVID-19 Policies and Procedures for information on topics not covered in this document.
COVID-19 is a highly contagious and potentially life-threatening virus and the symptoms include:
Cough
Shortness of breath or difficulty breathing
Chills or repeated shaking with chills
Loss of taste or smell
Temperature at or above 100.4⁰ F
Nausea and vomiting
Headache
Sudden loss of taste and smell
In order to keep St. Mary open and in order to protect the health of our families, students and staff, it is important that all families exercise caution when considering sending a potentially ill student to school.  Although a student's temperature will be taken upon entry to the school, parents play an important role in keeping the community well.
If a student/adult becomes ill with possible COVID-19 symptoms, the student/adult will be quarantined in the mail room until he/she can go home.
If COVID-19 is diagnosed, the mail room will be closed and then disinfected prior to use. Parents/guardians and the Catholic School Office will be notified that there has been a case of COVID-19.
Any room that the COVID-19 diagnosed person has spent more than 30 minutes in will be quarantined and then disinfected.
The school community will be notified and any person that has spent more than 15 close contact minutes with the diagnosed person must contact the Tulsa Health Department for quarantine and testing procedures. These options include:

COVID-19 testing
Quarantine for 14 days

Students/employees who remain symptom free may return to school after 14 days.
Students/adults who test positive must follow the recommendations of the Tulsa Health Department and their personal physician before returning to work/school. A physician's note will be required.
Students who are quarantined, will avail themselves of instructional videos posted by the teachers and worksheets in order to keep up with the class
Masks –.  Masks are required for students in grades K-8 and all adults -No bandanas, no masks with valves and all masks must be at least 2 layers thick.
Masks must be non-political in nature and appropriate to the Catholic School setting. The principal will have final say in the appropriateness of the mask.
Students should come to school each day with 2 clean masks.
Anyone who does not come to school with a mask may purchase one from the school office for $1.00 per mask.
Visitors – Entry of parents/visitors to the school will be limited.
Parent may not escort their child into the building.
Parents/adults must wear a mask while in the building.
If a parent/guardian needs to pick a child up during the school day, they should pull close to the school door and call the school office. Students will be called from class and escorted to the parent car.
Temperature Checks:  All parents/students/staff and visitors will have their temperature taken upon entry into the school.  Adults/students with a temperature at or above 100.4⁰F will be rechecked after 15 minutes.  Any adult with an elevated temperature will be denied admittance to the school.  The parents/guardian of students with an elevated temperature will be contacted to pick up their student.  Students with an elevated temperature will be required to wear a mask and remain in the health room until they can be picked up.
Students:

Before School Care – Temperature checks will occur at the white corridor doors. Students with an elevated temperature will be sequestered at the end of the hall by the Church Office Doors until their temperature can be rechecked.  If the temperature remains elevated, parents will be contacted to take their student home.  Students waiting to go home will wait in the health room and wear a mask until they are picked up.
Drop-off – students will enter the school at the following entrances: White Corridor entry (grades 1,2,5 and Before School Care), West Front Entrance (grades 3,4,6), East Front Entrance (grades 7,8 – students will walk down ramped hall and up preschool steps), Kindergarten students will enter through the far east doors into the Kindergarten room after temperature screening.  Students with an elevated temperature will be sequestered in the white corridor or in the health room' whichever is closest.
Tardies will be processed at the East Front Entrance.

Teachers/Staff: Teachers and staff will go to the school office upon entering the building and be temperature checked.
Parents/Visitors/Volunteers – All parents/visitors/volunteers must first stop at the school office to have their temperature checked prior to going to their school destination. All adults in the school must wear a mask the entire time they are in the school.  Masks will be available for purchase in the school office.
Classroom:
Social Distancing:

Classroom desks have been arranged to afford 4 feet or more between desks and all desks are facing the same direction
Grades 3,4,5,6 will have desk shields
Students will be shown methods to ensure social distancing while walking in hallways and standing in line

Classroom traveling – When possible the teacher will change classrooms and the students will remain at their desks. If the students must move, the desks and chairs will be disinfected.
Classroom doors will remain open to increase ventilation.
Volunteers:  Classroom volunteers will be limited during this time.  Cafeteria volunteers are essential during this time and will be required to wear a mask and gloves while working in the cafeteria.  All visitors and volunteers must wear a mask and have their temperature taken when in the school building.  Masks are available for purchase in the school office.
Hand Washing/Hand Sanitizer:  Extra breaks will be given for students to wash their hands.  Frequent use of hand sanitizer will be encouraged.
Hot Lunch/Lunch Room:
During the pandemic, the cafeteria space will be closed for student lunches. Students will eat in their classrooms and will be allowed to drink only water.  Water fountains will be closed.
Microwaves will be unavailable for use by students.
Box lunches will be available for order from the St. Mary cafeteria using the same system used to order hot lunch in previous years and will be delivered to classrooms.
Mass:  The requirements for school masses are being discussed with the priests.  More information will be available at a later date.
Class Parties for Christmas, Halloween and Valentine's Day:
The students may have parties in their classrooms, but parents/guardians may not attend.
Treats should be store bought.
Birthday Treats:  Treats should be store bought.
Cleaning/Sanitizing/Disinfecting:
To minimize the chemicals that students are exposed to, student desks, door knobs and any other items touched by students/teachers will be disinfected at the end of each day.
During the school day, teachers/staff will clean with a solution of soap and water as often as possible. Students may aid in the cleaning during the day.
Items that are shared by students will be disinfected by the teacher between each student use with disinfectant wipes, a rubbing alcohol based hand sanitizer or a bleach solution.
Janitorial staff will clean and disinfect after school hours and staff will sanitize bathrooms, handrails and door handles during the day.
Recess:
In order to minimize the mixing of students, the school playground will be divided into 5 areas and a schedule will be devised to rotate each class through the 5 areas on a weekly basis.
Recess supervisors will monitor the time that students spend playing in close contact with one another and will have the students spread out greater than 6 feet for a time every 10 minutes.
Teachers will plan for additional opportunities for students to go outside.
Students will wash / hand sanitize hands after recess and upon entering the building.
Drinking Fountains:
Students must bring a water bottle to school.
Drinking fountains will be unavailable for use while there remains a threat of COVID-19.
Bottle fillers will be functional and available for use.
Health Room/Medical Procedures:
The Health Room will be closed for all minor medical situations. All minor student ailments will be tended to by the classroom teacher.
All ill students will be required to wear a mask while waiting for parent/guardian to pick them up from school.
Faculty/Staff/Student must be fever free for 24 hours without the aid of fever reduction medications before returning to school.
Drop off
7:20am – 7:45am (Before School Care) – in gym

Students in grades 6,7,8 line up single file, followed by 4,5,3,2,1. Kent will lead K students to classroom after all students have left the gym.

7:45am – 8:00am – cars will be routed to the outside lane in front of the school

Students will be dropped off as usual, proceeding to the door their class has been assigned. They will have their temperature taken at the door where their class enters the building:

Kindergarten – far east kindergarten entrance
Grades 1,2,5 – white corridor door
Grades 3,4,6 – west door. 6th will immediately go up the north stairs to class
Grades 7,8 – east door and proceed down ramp, left to west hall and up south stairs
Dismissal:  Dismissal times will be slightly staggered and students will exit through multiple doors to minimize hall congestion.
Kindergarten will be dismissed at 2:40 (12:40 on Fridays) and exit the east door of their classroom
Grades 1-8 will dismiss at or slightly before 2:45 (12:45 on Fridays).

Grades 1,2 will dismiss a few minutes before 2:45/12:45 and proceed through the gym and exit the outside gym doors remaining in 2 lines that are distanced.
Grades 4,5, following 1st and 2nd, will exit the white corridor doors remaining in 2 distanced lines. The front of the lines stopping at the Spanish windows.
3rd grade will dismiss a few minutes before 2:45/12:45, exit the Spanish room doors and proceed to the church steps
6th grade will go down the north stairs and proceed out the west school doors, (following 3rd grade) forming a double line from the west doors to the Spanish room windows
7th grade will dismiss a few minutes early and go down the south stairs, up the ramped hallway and exit the building using the east doors. They will line up under the awning at the east side of the school
8th grade will follow either 6th or 7th, proceed up the ramped hallway, exit the east doors and line up in front of the ramp.
September 21, 2020
Dear Saint Mary Families, Faculty, and Staff,
On behalf of the school administration and the members of the Covid Task Force, I would like to thank you for all that each of you has done to help keep us open and safe thus far this school year. The prayers, support and cooperation are what is keeping us, the school community, moving forward in this challenging and exhausting time. The purpose of this email is to provide an update regarding Covid-19 as it is affecting our school.
We have had two classes, 2nd and 7th grade, and our 2nd grade aide, Mrs. Cole, return from quarantine. They completed their quarantine and returned to in-school learning on Monday, September 14th. There has been no identified spread in either of those groups.
There has been one additional student in quarantine following contact, outside of school, with someone who tested positive. This student is now back in school as of today, as well as two other of our students who started the year out as distance learners. This makes our number now 17 students enrolled as distance learners.
The members of the Covid Task Force met last week to review our quarantine guidelines, and to put in place additional procedures to help with contact tracing. Ashley Thompson, from the Tulsa County Health Department, joined the group to answer questions regarding our specific situation in which we had to quarantine the two classes, as well as questions regarding possible future quarantine situations. The reality is that no two situations will be identical, and because of this, it will be necessary to make decisions that address the specifics of any future class exposures should they arise.
We quarantined the two classes, 2nd and 7th, because both classes had a student who tested COVID positive. Now a full week beyond the 14 day quarantine of our two classes, we have had no other students in either of those groups test positive. The school administration reviewed the specific situations with Ashley Thompson prior to making the decision to quarantine and again, as I said, with the task force committee members post quarantine. All of this supports that our current protocols are good.
Two additional areas reviewed by the committee involve better contact tracing during recess, and how, should the need arise again, to make the transition from in person learning to distance learning as smooth as possible in the case of larger groups needing to quarantine.
We have purchased a number of laundry baskets so that students will be able to gather all their belongings on the day a quarantine begins thus saving lost instructional time; teachers having to gather students' belongings and supplies; and parents having to make an extra trip back to collect these things.
Recess poses some unique challenges. What we do hope to do is to continue to put in place practices which will help monitor the amount of time students are together. We do not want to take away the freedom and the interaction that recess provides and which is so very important to the development of our young people, nor do we want to implement something that takes away from teaching time. We have segmented the playground by grade level, but contact tracing during recess is still most difficult to track. To lessen the need for contact tracing during recess, we have asked all those who monitor the playground to keep track of recess time in 10 minute increments. At the end of each 10 minute segment, they simply ask the children playing together to separate for a minute or so and then they can return to their games. Oftentimes, this can actually be incorporated into the games the children are playing. Putting the short intervals into the playing time will lessen the need to contact trace during this time.
In closing, again thank you to all for respecting our policies. We understand the challenges a quarantine poses for our families and our teachers. Quarantining a whole class is never a desired situation, but one that might again be necessary to stop the spread of exposure to COVID-19 and to allow us to continue to keep our doors open. We want you, the school community, to know that we are doing everything we can to keep the students healthy and safe. Please feel free to email any questions or concerns to the committee at covidtaskforce@schoolofsaintmary.com , and we ask for your continued understanding and patience as we work through this unprecedented time.
Suzanne Nelson
September 9, 2020
Dear St. Mary Families,
We were just notified by parents that over the weekend, one of our students was in the presence of an adult who has since tested positive for COVID-19.  That student will now complete a 14 day quarantine.  At this time, according to CDC Guidelines, there is a recommendation that just this student be tested, and we have sent this information to the student's parents.  Since, as of now, there is no known classwide exposure to a person who has tested positive, there is no  required quarantine of the rest of the class.  This information is being emailed to you as parents of the other students in the class.  We will keep you informed should there be any changes to the current situation.  We want you to know that we have been in constant contact with our local health department officials, and we continue to review our procedures regularly in light of the most recent data.  Please continue to pray for our families and our community during this trying time and do not hesitate to contact me with any questions or email them to  covidtaskforce@schoolofsaintmary.com.
Maureen Clements
---
September 8, 2020
Dear Saint Mary Families,
First of all, thank you for your support and patience during these first weeks of school as we have been navigating the challenges of reopening the school while minimizing the risks of exposure to COVID-19.
Our goal is to keep our students in the classroom. We believe this is the most effective way to learn for most of our students and it provides them the benefits of a larger community in which to grow humanly and spiritually.
We have formed a COVID Task Force comprised of parents and others who have expertise in various fields: pediatric medical information (Drs. Uyen Le and Cynthia Lundt), psychological and developmental considerations (Beth Svetlic), other school system best practices (Stephanie Gentry), faculty and administration considerations (Sarah Edwards, Suzanne Nelson, Pat Kimmel, Maureen Clements, Fr. Vince, and Fr. Jack), and communication needs (Mike Malcom). The task force will meet monthly. We are committed to continuous review and improvement of existing COVID protocols in light of our learned experience, most recent data, and expert guidance.
After our first meeting, we decided on weekly emails communicating the status of any COVID cases and required quarantines to allow for transparency and to alleviate anxiety that may accompany these stressful times. To that end, here is an update for this week.
Last week, we had two students test positive for COVID, one in 2nd grade and one in 7th grade. Under the guidance of the Tulsa Health Department, these classes have begun a required quarantine period before returning to school on September 14. Mrs. Cole will be quarantined, Mrs.Bloomfield and Mrs. Lang will not be quarantined because Mrs. Lang was not within 6 feet of students indoors for 15 minutes or more and Mrs. Bloomfield contracted COVID-19 this summer.
All the families in both grades were contacted individually and an email was sent to every family in the school notifying them of students testing positive. We also did some internal contact tracing to alert particular families of potential prolonged contact with the infected students.
Beginning this week, we will be posting a series of Frequently Asked Questions to assist families in understanding our COVID protocols.
Suzanne Nelson will be the contact person for the COVID Task Force. If there are questions about our procedures, please send the question or concerns to covidtaskforce@schoolofsaintmary.com.
Again, our goal is to keep students at school for in-person learning as much as we possibly can. The steps we are taking at school are intended to reduce the spread of infection at school, but the steps we all take outside of school will also help our school community remain as safe and healthy as possible, and will reduce the likelihood that groups of students will need to quarantine.
Please be mindful of best practices to avoid exposure for your children: good social distancing, wearing masks when appropriate and frequent handwashing.
Thank you so much for your cooperation and support during this time. It is great to have the students back on campus and we look forward to a great school year.
Fr. Jack               Maureen Clements
September 4, 2020
according to the CDC:
The best way to prevent illness is to avoid being exposed to this virus.
The virus is thought to spread mainly from person-to-person.
Between people who are in close contact with one another (within about 6 feet).
Through respiratory droplets produced when an infected person coughs, sneezes or talks.
These droplets can land in the mouths or noses of people who are nearby or possibly be inhaled into the lungs.
Some recent studies have suggested that COVID-19 may be spread by people who are not showing symptoms.