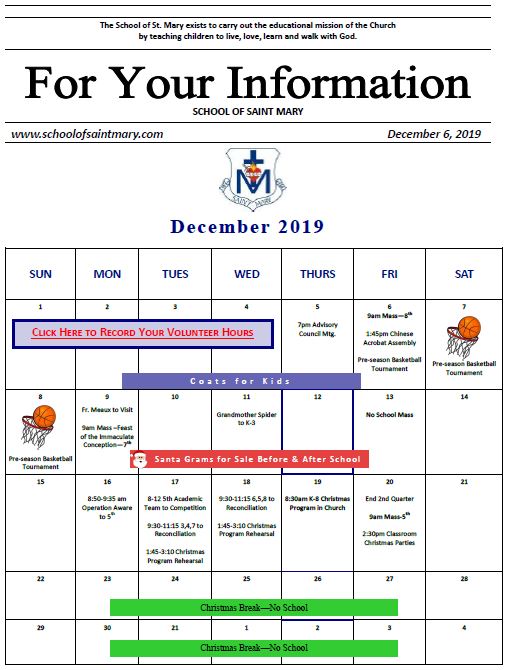 A few notes:
SCRIPS: Order your physical gift cards by Sunday evening, Dec 15th, and you may pick up and pay for them at the K-8th Christmas program. Every purchase supports the school. Contact Maggie Ohnesorge, ssmhsscrips@gmail.com or 918-779-9412 to order. Visit www.shopwithscrip.com to see available cards and denominations.
School of St. Mary Kindergarten 2020-2021:  The School of Saint Mary will be accepting applications for Kindergarten January 6th through January 31, 2020.  If you are interested in St. Mary Kindergarten and have a child who will be 5 by September 1, 2020, please call the School of St. Mary office at 918-749-9361 or email the school at stmary@schoolofsaintmary.com to reserve an application packet.  Reserved packets will be available for pick up on Monday, January 6th, in the school office.
A Kindergarten Open House has been scheduled for January 14th and January 15th from 10:00-11:00am.  Tours of the school will be offered at 9:30 on both days.
In this FYI
Pg. 1:  Calendar
Pg. 2:  St. Mary Christmas Book Club
Pg. 3:  Santa Grams and Coats for Kids, Scrip Gift Cards, Christmas Card Art Contest Winner and Mass of the Holy Innocents
Have a good weekend.