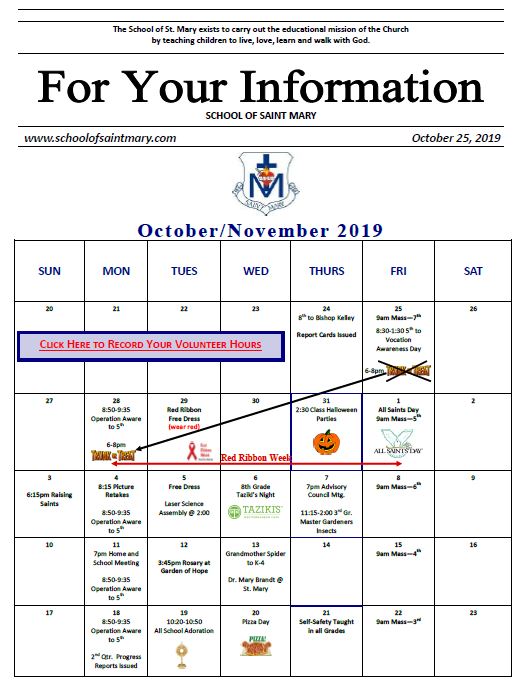 Reminders and Notes:
Trunk or Treat has been moved to Monday, 10/28, from 6-8pm due to weather.
Wear Red Free Dress is scheduled for next Tuesday, 10/29.   To promote drug prevention, students may wear free dress on Tuesday, 10/29, with as much red as they can manage.
K-8 picture retakes are scheduled for Monday, November 4th, at 8:15am and will last for about an hour.  If you would like your student to have their picture retaken, please return the original picture packet with pictures enclosed and write retake on the envelope.  Students will not be taken for a retake without the original order.
In this FYI:
Page 1:  Calendar
Page 2:  BoxTop Campaign, Red Ribbon Week is next week, Garden of Hope Rosary, "Raising Saints," Tailgate with Fr. Vince and Tony Scardino, Trunk or Treat moved to Monday, 10/18
Page 3:  8th grade Taziki's night
Page 4:  Grades 1-5 Jr. Comet Basketball form – due 10/25 (tomorrow)
Pages 5/6:  MaryFair Parties