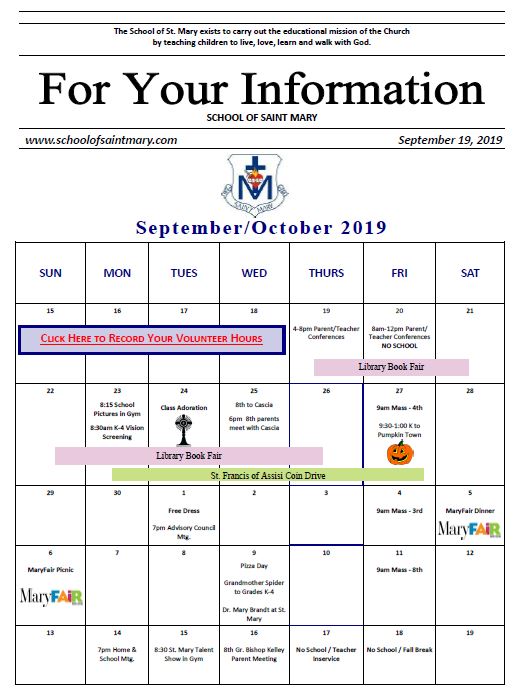 MaryFair is October 5th and 6th.  The giant MaryFair Tent will be put up on Wednesday, October 3rd.  Because of this, pick-up after school for Wednesday, 10/3, Thursday, 10/4, and Friday, 10/5 will be adjusted (drop-off should remain the same).  The line by the rectory, exiting onto 48th Place will remain open, but the lines in the big parking lot will not be available.  To help relieve the congestion caused by losing these exit lines, dismissal lines will be formed in the west parking lot.  These temporary lines will exit onto Quaker.  There will be teachers helping with traffic flow and a diagram of the exits for Wednesday, 10/3, Thursday, 10/4, and Friday 10/5, is attached to this FYI.  Students will be dismissed through the Beckerle door and lined up on west church side parking lot.  You will still need to get your child from the teacher.
POP-UP TENTS NEEDED FOR MARYFAIR PICNIC: If you have a pop-up canopy tent we could borrow during the Picnic, please contact Stephanie Peaster:  stephanie.peaster@gmail.com.
I just signed up for "2019 Mary Fair Picnic Volunteers" and you should too! Click here now: https://signup.com/go/byopHNL
Free Dresses next week:  Tuesday, 10/1, will be the school's regular Free Dress and Thursday, 10/3, will be MaryFair/St. Mary Spirit Dress.  On Thursday, students may wear either a MaryFair t-shirt, a St. Mary shirt or blue and white (school colors) with jeans/slacks or shorts.
In this FYI:
Page 1:  Calendar
Page 2:  MaryFair Information
Page 3:  Comet KidFest, Trunk or Treat, Backpack Donation for Outreach Ministry
Page 4:  Junior Comet Basketball Registration Form
Page 5:  St. Mary Talent Show Form – forms due tomorrow.


To see the complete FYI, please click on the image below.