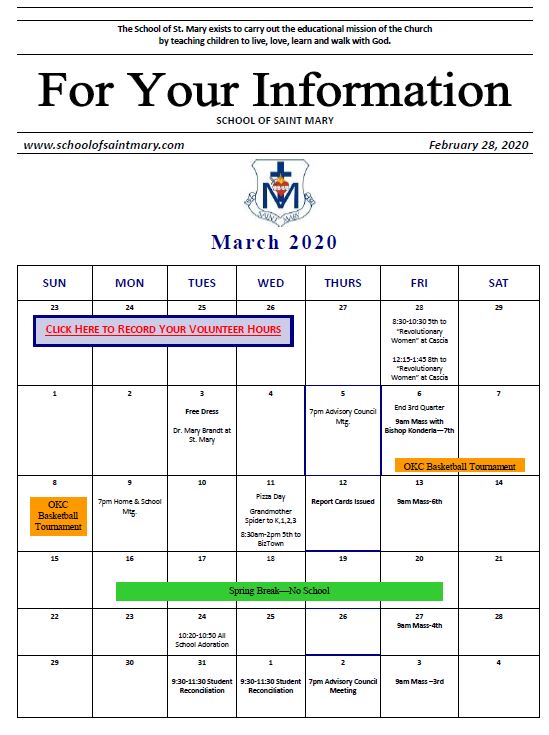 Parents,
OKC Basketball Tournament Information:  Friday, March 6th, Bishop Konderla will celebrate Mass with us at 9:00. He will then visit the classrooms.  We expect all students to be at school.  No one should leave for OKC until 11:00 or later.  PLEASE be sure you send an email or note to Mrs. Kimmel by Thursday, March 5th, stating what time you will sign out your child/children – please include all syblings who will be leaving early as well.  If you are taking other children, the parent must also send a note to the office giving your permission. 
If we do not hear from you, we will assume that a parent/guardian will pick up their middle school basketball player for the tournament at 11:00.  No student will be allowed to leave with anyone other than a parent/guardian without written permission from the parent/guardian.
Cafeteria/After School Care Billing;  Hopefully is finally fixed.  If you did not receive the email sent out yesterday, the article is repeated on page 2 of this FYI.
Announcement:  After 40 years of dedication to our school, Mrs. Peggy Padalino will retire in May.  We are very grateful for the work she has done to build our technology/media program. Her strong faith and knowledge has been a great benefit to us all.  I am happy to announce that Miss Sarah Edwards will move into the technology position next year. Miss Edwards has done an excellent job with our Kindergarten program and is ready for a new challenge.  Mrs. Wagner will continue in kindergarten.  We are accepting applications for a kindergarten teacher.
In this FYI
Page. 1:  Calendar
Page. 2:  Cafeteria/After School Care Billing information, 2020 Tuition and Financial Aid

To see the complete FYI, please click on the image below.