---
Update:
While it is still accepting new applications, the search committee is already working with candidates who have completed their applications. Mr. John Hanisch, facilitator, is investing a lot of time in each applicant.
The school is grateful to Mr. Hanisch, every member of the search committee, and everyone who is praying for our school.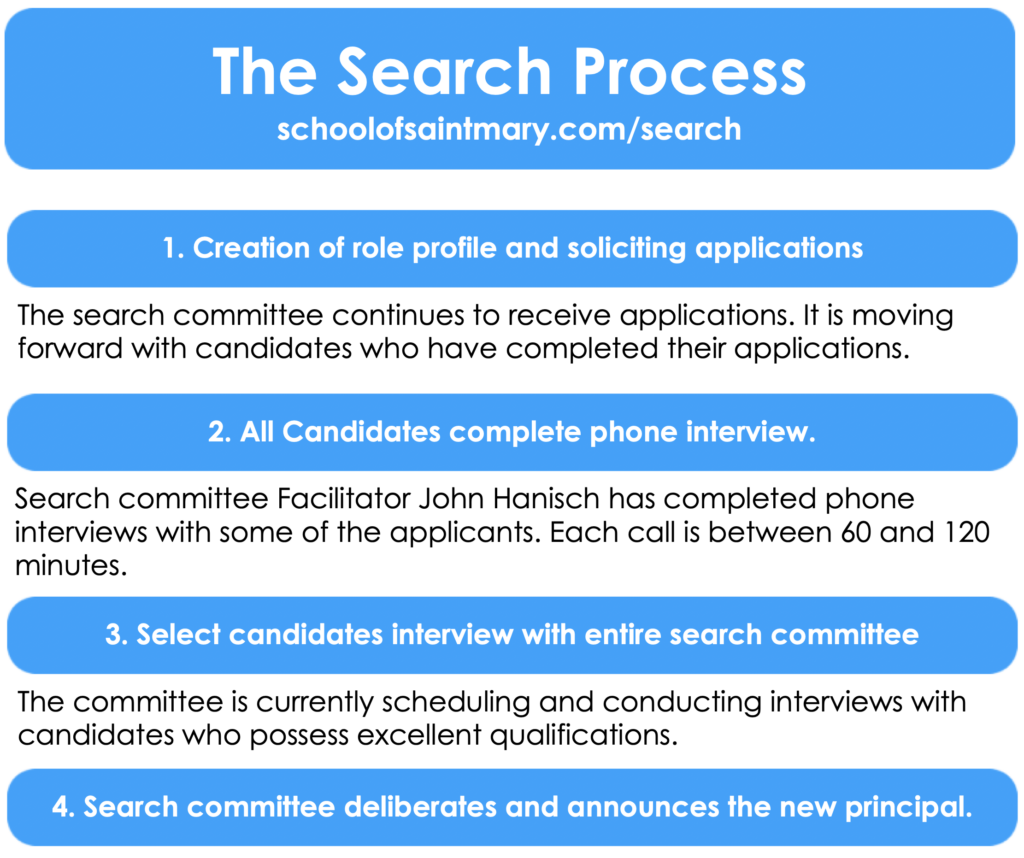 ---
After more than four decades of serving Catholic schools in Tulsa, Ms. Maureen Clements is retiring from her role as principal of the School of Saint Mary at the end of the 2020-2021 school year.
Father Jack has assembled a search committee to choose a new principal for the school. He asked Mr. John Hanisch to facilitate the process. John is a parent of four School of Saint Mary graduates and has a professional background in human resources and led the committees that hired the parish communications director, outreach director, and business administrator.
John Hanisch, facilitator
Suzanne Nelson, leader
Father Jack Gleason
Father Vince Fernandez
Mr. David Dean, superintendent of Catholic Schools for the Diocese of Tulsa & Eastern Oklahoma
Todd Goldsmith, former School of Saint Mary principal, former superintendent of Catholic Schools for the Diocese of Tulsa & Eastern Oklahoma, and the current middle school principal at Cascia Hall
Eileen Ames, director of Saint Mary Preschool
Jenny Haynes, a parent representative from the School Advisory Council, and
Mary Long, a school parent.
The process will consist of four parts:
Creation of role profile and soliciting applications (Apply here.)
Phone interviews with all applicants
Select interview with the entire search committee
Deliberation by the committee and an announcement of the new principal
The timeline for the process will be determined by the committee. You can stay informed about the work of the search committee by reading the FYI, by reading the school's website, and by subscribing to the Church of Saint Mary weekly email list.
---
Parents, teachers, parishioners, students, your thoughts matter. The School of Saint Mary is hiring a new principal. As they develop a role profile and interview candidates, the search committee wants to select a person with the characteristics you say are most important.
Share your opinions in this anonymous survey. Members of the search committee will read every submission.