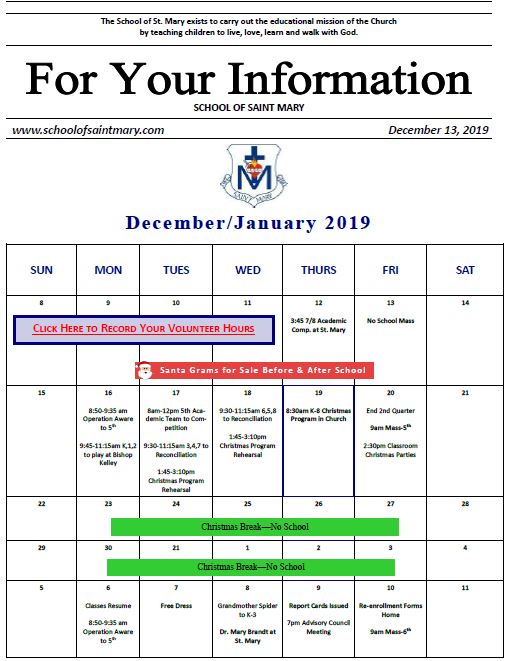 Parents:
Thank you Mrs. McCormick!
For many years Julia McCormick has lovingly cared for our students in the Health Room.  Rice bags, Band-Aids, cough drops, itch medicine and hugs are several of the "magic cures" she has given out.  Mrs. McCormick is retiring as of Dec. 20th.  She and her husband look forward to traveling to visit children and grandchildren.  Our prayers, love and best wishes go with them.  We are not filling her spot yet. For the second semester, Mrs. Mitchell will work 4 days a week.
A few notes:
Our Christmas Program is Thursday, Dec. 19th, at 8:30 AM. Students will wear dressy free dress (no shorts, please).  Bring tennis shoes for PE and recess.
A Kindergarten Open House has been scheduled for January 14th and January 15th from 10:00-11:00am. Tours of the school will be offered at 9:30am on both days.
In this FYI
Pg. 1: Calendar
Pg. 2: St. Mary Christmas Book Club
Pg. 3: Holy Family Party, Scrip Gift Cards, Cafeteria News and Mass of Holy Innocents
To see the complete FYI, please click on the image below.