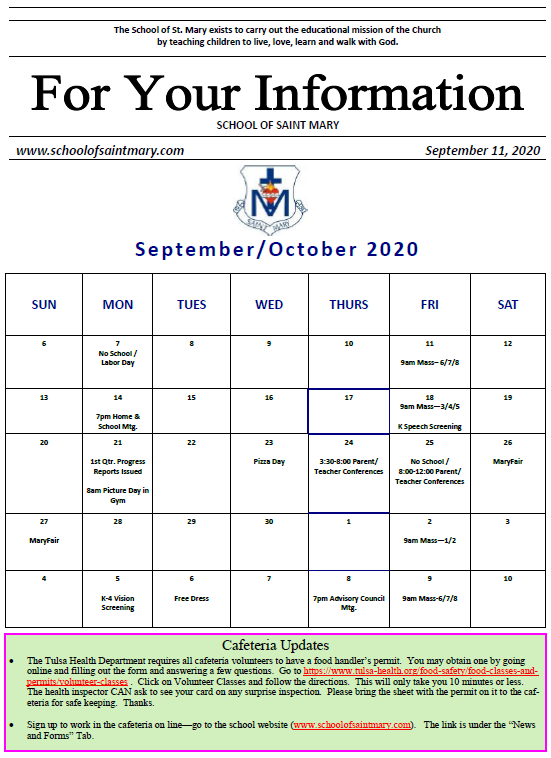 Picture order forms went home with students on the Tuesday or Wednesday of this week and picture is day is scheduled for Monday, September 21st,  beginning at 8am.  Pictures may either be ordered using the form that was sent home or online – at www.mylifetouch.com using the Picture Day ID of EVTP6VD49.  Distance learners may come in at 8am to have their picture taken on Monday, September 21, or come in during picture retakes at 8am on Monday, November 2nd (the November date will probably be less crowded).
Picture order forms are due in the office by Friday, September 18th.
Handbook slips were due the first day of school.  If you have not had time to do it, please return your slip by tomorrow, Friday, 9/11.  Distance Learners may take a picture of the signed form and email it back to me by replying to this email. Thanks
In This FYI:
Page 1 – Calendar, Cafeteria scheduling link, Volunteer Food Handler's Permit Link
Page 2 – MaryFair Updates-FAQ's, Pre-order your MaryFair dessert, Best of the Best, Wine & Whiskey Pull
Page 3 – MaryFair Schedule of Events
Page 4 – Trunk or Treat, St. Jude Walk/Run, COVID-19 Close Contact Definition
Page 5 – Parent/Teacher Conference Signup Form for K-5 (Middle School will sign up on Thursday, 9/17, at 7:45 – see Conference Form for more information.)

To see the complete FYI, please click on the image below.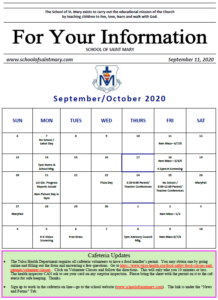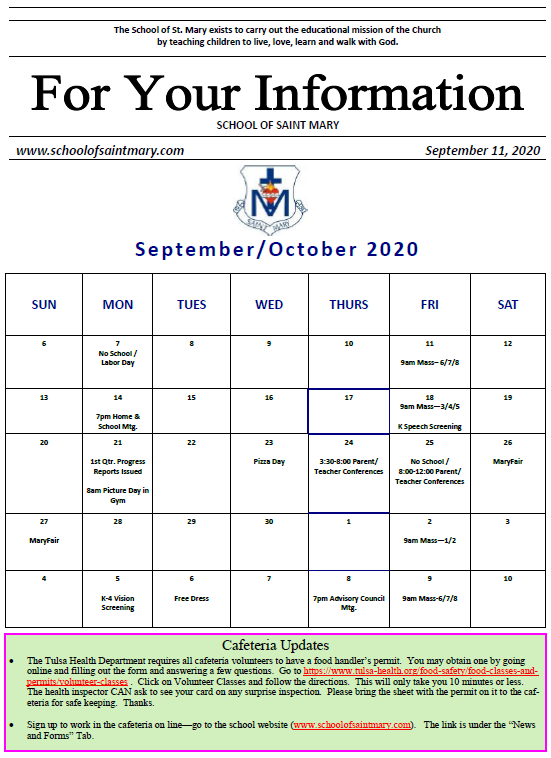 FYI 09/11/2020