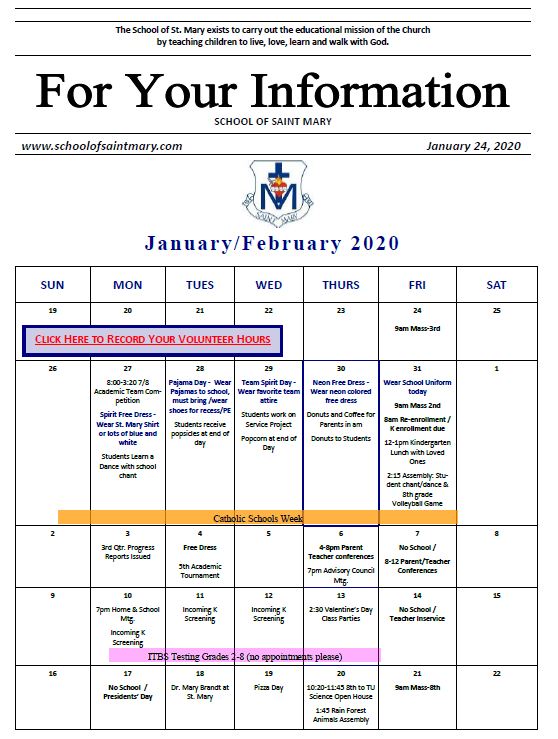 Misc:
If you were planning to bring in supplies to make the St. Francis Children's Hospital, there is still time.  Please bring your items in tomorrow, 1/24.  For a list of items requested, please see page 2 of this FYI.
Re-enrollment is due in the school office, next Friday, January 31st, by 8am.
Kindergarten Applications are now available for pick up on the office.  They are due next Friday, January 31st.
Parents may sign up for Middle School Conferences beginning, Friday, January 31st.
Financial Aid:  Now is the time to begin your financial aid request.   If you are currently enrolled at the School of St. Mary, you may use your FACTS Tuition account to apply for financial aid. One application is sufficient for both the St. Francis of Assisi Tuition Assistance Program and for Go for Catholic Schools.  Only online applications will be accepted.  After completing the online applications, you will need to mail or fax the supporting documentation.  The tax information needed to verify your application is shown in the FGAA Checklist that is found online.  The deadline for the submission of financial aid requests is April 15.  
In this FYI:
Page 1:  Calendar
Page 2:  Catholic Schools Week Donations, Save the dates for Golf and Tennis Tournaments, An Evening with Sarah Lowery Nuse
Page 3.  Catholic Schools Week Calendar
Page 4:  K-5 Conference Schedule

To see the complete FYI, please click on the image below.