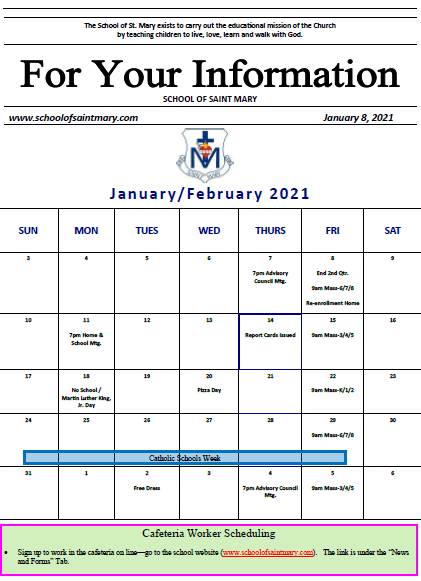 Parents,
The School of St. Mary will be in session tomorrow (Friday, 1/8) and coaches may have basketball practices this afternoon (Thursday, 1/7).  A temporary fix has been put in place to alleviate the plumbing problem and the final fix will should happen sometime tomorrow afternoon.
Updates/Information and Reminders:.
Forms for Re-enrollment for the 2021-2022 school year will go home tomorrow.
Kindergarten Applications are available for pick up in the school office.
Cafeteria News:  Cafeteria workers – click here to schedule your day to work in the cafeteria:  CAFETERIA SCHEDULING .
In This FYI:
Page 1 – Calendar, Cafeteria Scheduling
Page 2 – Kindergarten 2021-2022, COVID-19 DYK, Charges for missing cafeteria duty will  be on next month's FACTS bill (see article for more info)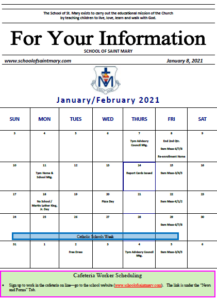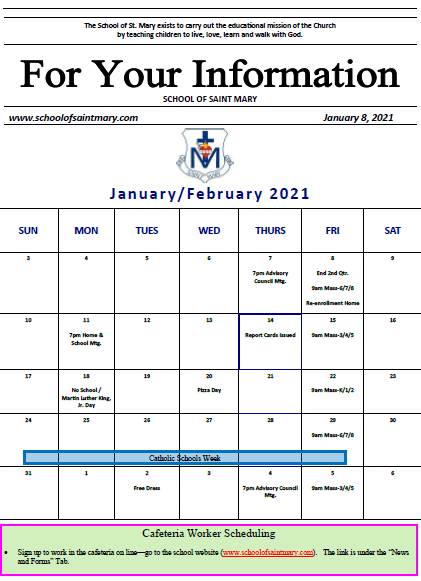 FYI 01/08/2021